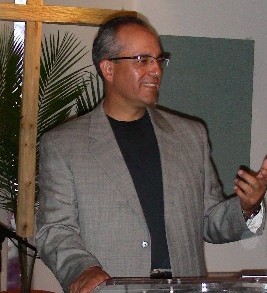 Pastor Jimmy Sandoval is a native born Northern New Mexico resident. He was raised Roman Catholic and encountered personal saving faith at age 19. He then moved to California and began attending a Bible believing Church in Santa Ana California called Calvary Church. There he was immersed in the Word of God through expository verse by verse, Scriptural Teaching.
While there met and married Brenda Thompson who was attending Biola University. Her love of God's Word was what first attracted his attention! They have been married since 1982, and have six children; three daughters, three sons and five grandchildren(so far!).
Pastor Sandoval has been thoroughly involved in church ministry since he was born again. He was involved in the College age ministry at Calvary Church of Santa Ana and then was asked to help with the establishment of a Spanish Speaking Bible Church amongst the large immigrant population in Santa Ana. He and Brenda worked with church planters Ray and Carl Zurcher who had spent many years ministering in Colombia, South America with Gospel Missionary Union. There Pastor Sandoval quickly learned Spanish and is now fully Bi-Lingual. Iglesia Del Buen Pastor was established in Santa Ana California and continues ministering to the Spanish Speaking Community. Other church plants have emerged from that work as it continues to grow into other communities surrounding Santa Ana. While ministering there Pastor Sandoval began attending Bible Institute and realized the need to further his Bible education. He joined the US Army in 1984 to raise funds through the GI Bill and upon honorable discharge after serving in the Army he enrolled in The Masters College in Valencia California, where he earned a Bachelor's Degree in Biblical Studies in 1988. As he attended The Masters College he planted a Bible Church with the help of First Fundamental Bible Church of Monterey California, this church merged into The Evangelical Free Church of North Hollywood. Upon moving to Lancaster California, Pastor Sandoval and his family helped plant a CBA Church there with Pastor Jim Carpenter. While ministering there he began work on a Master's Degree in Pastoral Studies through AZUSA Pacific University and received that degree in 1998. Sensing a desire to share the Word of God with his beloved Northern New Mexico Pastor Sandoval began searching for churches in New Mexico that might be looking for a minister. In 1996 Grace Community Church of Santa Fe asked him to become the Pastor where he has now served for 17 years.
Ministering in Santa Fe has allowed Pastor Sandoval to preach the Word continually and reach his beloved fellow New Mexicans, and many others too, with the saving message of the Biblical Message of God's salvation as offered through the Lord Jesus Christ. It has been his great delight to see that God's Word is reaching into the Native American population also, whose culture and history, has been one of his personal hobbies since childhood. He has also been able to serve as Chaplain of the State Senate and State House of Representatives each Legislative Session. He has performed numerous weddings and other ministerial services throughout Santa Fe and Northern NM.
Timothy 4:1-5
In the presence of God and of Christ Jesus, who will judge the living and the dead, and in view of his appearing and his kingdom, I give you this charge: Preach the Word! Be prepared in season and out of season; correct, rebuke and encourage–with great patience and careful instruction. For the time will come when men will not put up with sound doctrine. Instead, to suit their own desires, they will gather around them a great number of teachers to say what their itching ears want to hear. They will turn their ears away from the truth and turn aside to myths. But you, keep your head in all situations, endure hardship, do the work of an evangelist, discharge all the duties of your ministry.